THE NIGERIAN EMAIL EXPERIMENT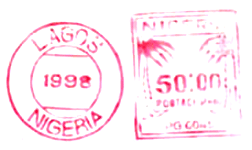 The Nigerian email scam is the modern day version of the Nigerian Fax Scam which was once the modern day version of the Nigerian Letter Scam.
Basically, you get a letter from a Nigerian who wants to transfer millions into your bank account because he's heard you're trustworthy. You only need to provide a bank account number. You can imagine what happens as soon as you're dumb enough to do that.
Apparently people are dumb enough, the scam works.
I receive several of these per week. Recently, I chose a Policy of Engagement rather than a Policy of Deletion, because I felt there might be comedic value in it. There is.
The following real correspondence is between myself (as Michael Bloomberg) and Dr. Abu Hassan, who trusts me and wants my bank account number.
WE BEGIN. A stranger writes, and wants my bank account information:
From: DR. ABU HASSAN Date: 10/09/03 Subject: EXTREMELY URGENT
REQUEST FOR A MUTUALLY BENEFICIAL BUSINESS RELATIONSHIP: PERMISSION TO REMIT US$35MILLION INTO YOUR COMPANY OR PRIVATE ACCOUNT.
With due respect, trust and humility, I write you this proposal believing that it will receive the most desired attention from you even as we have not had any previous correspondence before.
Although I am constrained by insufficient information
about you, but I will express in full the main objectives of this proposal.This request for your assistance is of mutual benefit to us all. Our company is specialized in contract syndication, projects consulting,monitoring/supervision and management services. We would like to solicit your kindness in assisting us to champion the transfer of some fund from our country to yours for safe keeping. The total amount of fund is US$35million (Thirty-five Million United States Dollars Only).
SOURCE OF THIS FUND:We have used our network of relationships, to secure a contract valued at US$350,000,000.00 (THREE HUNDREDAND FIFTY MILLION UNITED STATES DOLLARS ONLY) from the Federal Ministry
of Works & Housing (F.M.W.H.). This contract was in favour of a Foreign based Multi-national company. This contract has been fully executed and the contractors have already received their payments from the Ministry
of Works & Housing.
However, before the contract was awarded, we had understanding with officials of Federal Ministry of Works & Housing, that 10% (TEN PERCENT) of the total contract sum would be our commission for our services in recommending the contractors and for helping to conduct various negotiations leading to final agreement. This 10% amounting to US$35,000,00.00 (THIRTY-FIVE MILLION UNITED STATES DOLLARS ONLY) is due for payment to a foreign account of our choice.
This amount is owned by our goodselves and some top officials of Federal Ministry of Works & Housing.
Basically, you would be required to nominate a suitable Bank Account that will conveniently accommodate the total fund. Account could be a
fresh or an already existing one, and could be individual or corporate account. All necessary arrangement have been made for the transfer of the funds into your account which they are awaiting for your above mentioned details to enable us make proper documentation of the payments in your favour and apply for the transfer of the funds into your account. PLEASE NOTE THAT THE TRANSFER OPERATION WILL TAKE SEVEN TO TEN WORKING DAYS TO BE COMPLETED. I would need your personal assurance that you would not sit on the money when its finally get into your account.
SHARING MODALITIES: You shall be entitled to 25% of this fund for your envisaged efforts and assistance rendered. 5% has been set aside for reimbursement to both parties for incidental expenses that may be incurred in the course of this transaction. The remaining 70% would be for our company and the top officials.
This proposal is strictly confidential, free from any form of risk and does not depend on any particular field of trade to prosecute. Therefore, the line of business of yourself/company is not a hindrance to the successful execution of this transaction. It however requires your adequate participation and support to enable its accomplishment on schedule.
Be informed that on completion of this business our company will use part of its share of the money to invest in your country under your care. Please send email to me on my PrivateE-mail Address: abu_hassan01@honghongmail.com PHONE:234-802-*******
Thanks in anticipation and God bless.
DR. ABU HASSAN.
Abu's hard work pays off, he gets a reply:
From: Michael Bloomberg Date: 10/10/03 Subject: Re: EXTREMELY URGENT
Hello Dr. Abu!
My name is Michael Bloomberg. I live in New York City and am in receipt of your letter suggesting a partnership wherein I will provide you with my bank account information and you will transfer $350 Million to it for safekeeping. I understand that for my assistance I stand to be compensated 5% of the $35 Million commission you stand to receive.
I will assume you received my email address from my uncle Jack, who had previously worked with a little boy named Ndugu who lived outside of Lagos. Otherwise I'm not sure how you would have come across it. Perhaps I'm on a list of people who enjoy fine wines? I like fine wines. I don't believe I've ever had any Nigerian wines. If you have vineyards then perhaps I will try some at some point. I believe I read something about Mobutu Sese Seko once. I'm not sure if he's Nigerian, but the name sure sounds it.
I am glad you trust me. I believe you have made a smart decision. I can be trusted, and as a result I have had a very successful career in business. I've actually done a great deal of good for local restaurants, by preventing tobacco use and sending 30% of restaurant and bar profits somewhere else.
I would be happy to provide you with my account information and facilitate the transfer of the $350 Million to my account here in New York, and see to it that your share gets to you when ready. Please let me know what needs to be done.
As is customary in New York, I would like to get to know you better, especially if we stand to be business partners. I will start by saying I love the color blue and long walks. I don't know if you're ever been to New York City before, but it is a wonderful, smoke-free place where one can walk on a variety of substances and be peppered with input from all the glorious olfactory and auditory joys that make this city the greatest city in the United States, and perhaps the world. Though, I must admit never having traveled to Africa so perhaps Lagos or that place in the Southwest of the continent is nice.
Anyway. I tend to talk too much! I look forward to hearing from you,
Michael Bloomberg
New York City
Abu starts working his criminal mojo:
From: abu hassan
Date: 10/10/03
Subject: VERY URGENT
DEAR FRIEND,
I THANK YOU SO MUCH FOR YOUR CONCERN TOWARDS THIS TRANSFER OF FUND. BUT I MUST BE FRANK WITH YOU REGARDS THE AMOUNT INVOLVE IN THIS TRANSACTION. THE TOTAL AMOUNT TO BE TRANSFER INTO YOUR BANK ACCOUNT IS US$35 MILLIONS AND NOT $350M AS YOU MAY KNOW.
ALL I SAID IS THAT THE TOTAL CONTRACT AMOUNT THAT WAS AWARDED TO A FOREIGN CONTRACTOR WAS $350M AND OVER INVOICE AMOUNT THAT IS READY FOR TRANSFER IS $35M. YOUR SHARE IN IT AFTER THE FUND IS BEEN CONFIRM IN YOUR BANK ACCOUNT IS 25% AND 5% IS SET ASIDE INCASE OF ANY TAXATION THAT MAY OCCOUR DURING THE TRANSFER OF THIS PAYMENT.
BE REST ASSURE THAT ALL THIS WOULD BE DOWN LATES WITHIN THE SCHEDULE TIME OF 10 WORKING DAYS AND THERE IS NO RISK IN THIS TRANSFER .
PLEASE MAKE SURE YOU FORWARD YOUR BANK ACCOUNT AND THE NAME OF THE BENEFICIARY'S WHICH YOU WANT ME TO USE FOR THIS CLAIM UNDER THIS CONTRACT NUMBER 045/NNPC-WR-KD/99.
APPLICATION WILL BE SUBMITTED AS SOON AS I RECEIVE YOUR ACCOUNT DETAIL TO THE AUTHORITIES CONCERN FOR THE RELEASE OF THIS FUND AND APPROVAL WILL BE ISSUED ON YOUR NAME WHILE THE INTERNATIONAL REMITTANCE DEPARTMENT WILL INSTRUCT STANDARD CHARTERED BANK IN NEW YORK TO CREDIT YOU. AS WE GO I WILL BE GIVEN YOU INFORMATION ON HOW THIS TRANSFER WILL COMMENCE.
IT DOESN'T MATTER THE TYPE OF ACCOUNT YOU WILL PROVIDE TO ME ALL I NEED IS A FOREIGN BANK ACCOUNT SINCE THE LAW DOES NOT PERMIT US TO HAVE A FOREIGN BANK ACCOUNT ABROAD.
REMEMBER TO GIVE ME YOUR NUMBER IMMEDIATELY FOR EASY COMMUNICATION WITH THE FINANCIAL AUTHORITIES CONCERN FOR THE TRANSFER.
REGARDS,
DR. ABU HASSAN.
Michael clarifies the bank situation:
From: Michael Bloomberg Date: 10/10/03 Subject: re: VERY URGENT
Hello Abu,
Sorry! I went back and re-read your letter and realize I did not read it correctly. I now understand that you will be wiring $35 Million and not $350 Million as I had originally understood. That is quite acceptable to me, I'm sorry for the misunderstanding! Normally I don't make mistakes like that. I'm very good in business, you see.
I have a question regarding banks. There are several here in New York, as you can imagine, and I have accounts with some of them. Washington Mutual does not charge ATM fees and has a nice advertising campaign which I like. They are smaller though, and don't have a lot of branches in the New York Metropolitan area. I don't know if that's a problem for you. There are always the "Big Boy" banks like Chase and Citibank. I have accounts with both of them as well. They are much bigger and have locations all over the city, and many ATMs. However they are quite lacking in the "customer service" department if you know what I mean. I sometimes think they are too big for their britches. I also like Commerce Bank because they let you bring your jars full of coins and will give you paper currency, without charging you. I won a free t-shirt there once. Come to think of it, Chase will probably want to charge you $12 USD for a wire transfer. Maybe even more if it comes from another country. I can ask.
Please let me know if you have a preference of a small bank or a big bank. It all depends on the kind of relationship you like to have with your bank. If I were to have my druthers (way) I would choose Washington Mutual. There's also another bank called Independence Community Bank. I have a certificate of Deposit with them, which I opened not too long ago with a lovely Brazilian lady. Shortly after that I spotted Ethan Hawke on 23rd Street, so one has to wonder if that wasn't a sign.
By the way, the interest rates in the United States right now are quite terrible! I hope you are not expecting to gain a lot of interest on your monies! The economy is not what it used to be, and I would tend to blame this whole Clinton/Lewinsky nonsense on that. Also, they banned smoking here which as you can imagine is very unpopular. Perhaps I can move to Nigeria where people can smoke freely.
This contract number, 045/NNPC-WR-KD/99, shall I put it on all correspondence?
Please let me know what you would like to do as far as the bank of your choosing.
I assume everything is legal and risk free, yes?
Your friend,
Michael Bloomberg
It has been several days and Dr. Abu has not responded. One must fear the worst.
From: Michael Bloomberg Date: 10/14/03 Subject: Hello?
Hi Abu. Is everything ok? Someone said that Nigeria lost power recently, so perhaps your internet isn't working?
Michael B.
Abu returns with a tall tale of a trip to Paris. He's my 'best friend' now, and prefers Washington Mutual.:
From: abu hassan Date: 10/15/03 Subject: VERY URGENT.
DEAR MICHAEL,
SORRY FOR THE LITTLE DELAY IN RESPONDING TO YOUR MAILS. I WAS A LITTLE BUSY TRYING TO KEEP ONE OR TWO THINGS TOGETHER BEFORE I LEAVE FOR AN OFFICIAL ASSIGNMENT TO EUROPE.
I LIKE US TO USE THE BANK WHICH YOU SUGGESTED IN YOUR LAST MAIL CALLED [Washington Mutual]
I WILL BE SUBMITTING THE APPLICATION IF ONLY I CAN GET THE ACCOUNT DETAILS BY THE END OF TODAY OR TOMORROW BEFORE OUR AFTERNOON TIME SO THAT THE AUTHORITIES CONCERN WILL BE TREATING YOUR FILE TILL I COME BACK IN 7 DAYS TIME.
I SHALL LEAVE BY FRIDAY NIGHT TO PARIS AND I WOULD WANT YOU TO FORWARD THIS ACCOUNT DETAILS SO THAT I WILL PURSUE FOR THE APPROVAL OF THE FUND BEFORE I LEAVE ON FRIDAY THIS WEEK THE 17TH OCT 2002.
REMEMBER TO INCLUDE YOUR PHONE AND FAX NUMBER AND YOUR DIECT MOBILE PHONE WHERE I CAN REACH YOU AT ANYTIME AS YOUR PARTNER TILL WE MEET IN NEW YORK.
MY DIRECT NUMBER WHERE YOU CAN GET ME NOW IS 00234-802*******. MAKE SURE THAT YOU GET INTOUCH WITH ME SO THAT I WILL ACCESS MY MAIL IMMEDIATELY TO GET THE INFORMATION SUBMITTED TO THE FEDERAL MINISTRY OF FINANCE AND THE CENTRAL BANK WITH THE NIGERIAN NATIONAL PETROLEUM COPORATION.
ALL THESE OFFICES ARE INCHARGE OF THE RELEASE AND WHAT EVER THEY SENT TO YOU ,I MUST KNOW THE KIND OF QUESTION THEY ASK YOU FIRST BEFORE YOU RESPOND TO THEM. I WOULDN'T WANT YOU TO MAKE ANY MISTAKE FROM YOUR SIDE AS I HAVE MAPE OUT ALL THE STRATEGES TO SEE THAT AT THE END OF 7 WORKING DAYS EVERY THING WILL COME TO AN END WITH THE CONTRACT NUMBER 045/NNPC-WR-KD/99. I HAVE PUTING YOUR NAME IN THE SYSTERM AS THE SUB CONTRACTOR AND EVERY DOCUMENT CONCERNING THIS TRANSFER WILL BE ON YOUR NAME AS THE BENEFICIARY.
ONCE AGAIN I ASSURE YOU THAT THIS TRANSFER IS LEGITIMATE AND THERE IS NO RISK AT ALL IN THIS TRANSFER OF US$35M.
PLEASE KEEP TO YOUR OWN SHARE AND MY OWN SHARE.
REGARDS,
YOURS BEST FRIEND,
DR. ABU HASSAN
Abu also doesn't want me to believe the hype about Nigeria:
From: abu hassan Date: 10/15/03 Subject: Re: Hello?
DEAR MIKE,
PLEASE IGNORE ANYBODY WHO SAYS WE LOSE POWER AND OUR COMPUTER IS NOT WORKING. THAT IS TIPICAL LYE.
JUST READ MY FIRST MAIL AND MAKE SURE YOU GET INTOUCH WITH ME ON PHONE AFTER SENDING YOUR BANK DETAILS TO ME FOR SUBMISSION.
MY NUMBER IS 00234-802*******
DR. ABU HASSAN
Abu gets a response. One has to wonder how much longer this can go on.
From: Michael Bloomberg
Date: 10/15/03
Subject: Hello!
Dear Abu:
Okay, looks like your internet is working again. Thank goodness!
Washington Mutual should be fine then. You'll like them – they have very funny commercials. My grandfather Giuliani used to say that a business with a good advertising is a business when you're there you're like family, the olive garden.
I will have to get you my bank account number tomorrow because I am still in my office (I'm good at business) and my bank account slips are in my home in my guest room closet. I will probably not get home for a while because there was a ferry accident. It's very windy. Unrelated, my grandmother Hillary fell and did a number on herself. She's 92 so you just don't bounce back like you used to. But she's strong as a wedgie, you can imagine.
I will call you when I have sent the information. I have never called Nigeria before, so if you receive a call and it seems like it's from New York, it's probably me (don't hang up!). Nigeria has very large phone numbers, my goodness!
Have a great trip to Paris. It is a wonderful city, except for all the French. Will this be your fist visit? The rigatoni there is out of this world. Do Nigerians speak French? Your English is so good I just assume you speak English!
Talk to you soon.
By Special Vegan,
Michael Bloomberg
New York
It is quite clear this is a very one-sided relationship. Abu replies but fails to address anything I have mentioned– such as my fallen "grandmother Hillary", the rigatoni of Paris or my Olive Garden jumble.
From: abu hassan Date: 10/16/03 Subject: VERY URGENT
MY DEAR FRIEND,
GREETINGS, HOW IS TODAY ? I ASSUME THAT YOU ARE IN GOOD CONDITION OF HEALTH AS I AM TODAY OVER HERE IN NIGERIA.
I WILL BE LEAVING TOMORROW TO PARIS AND I WOULD LIKE TO CALL YOU WHEN I ARRIVE ALSO I WILL TOUCH ITALY BEFORE COMING BACK. PLEASE DONT FORGET TO CALL ME AND REMEMBER THE ACCOUNT DETAILS WHICH IS VERY IMPORTANT FOR ME TO SUBMIT BEFORE I LEAVE TOMORROW EVENING.
THERE IS NO MUCH TO TALK ABOUT THAN I AM WAITING FOR THE DETAIL OF YOUR ACCOUNT , IF YOU WANT TO OPEN A FRESH ACCOUNT THERE IS NO PROBLE ALL I NEED IS BANK ACCOUNT WHERE I CAN PROCESS AND TRANSFER THE FUND OUT OF THIS COUNTRY FOR GOOD.
I WILL WANT TO GET YOUR PHONE NUMBER SO THAT WE CAN BE COMMUNICATING WHEN I GET TO EUROPE FOR AN OFFICIAL ASSIGNMENT.
REGARDS,
ABU HASSAN
00234-802******* DIRECT NUMBER WHERE YOU CAN REACH ME. OTHER NUMBER IS FOR MY COLLEAGUE IN THE OFFICE
The affair continues…
Hello Abu, or shall I call you Doctor Abu? I have a slight pain in my shoulder. Perhaps you can help me with this. Are you a shoulder doctor or do you work with unhappy people?
I have gone ahead and spoken with Washington Mutual to set up another account. The account number is 2212-8172-69-122 with the additional last four digits being that of my Social Security number. I don't know if you saw on TV, but the New York Yankees beat the Boston Red Sox 6-5. This was fantastic! The game was very exciting. I'm sure you saw the last inning with the sudden home run. Boy, goodness, that is what baseball is all about.
I want to call you, but it is already very late and I don't want to wake you up. I know Nigeria is probably an hour ahead of New York on the time clock, so I'm afraid I might disturb you from your great slumbers before the big trip to Paris and Italy. That would be terrible of me to do. New York is known for its courtesy, I'm sure you have heard.
I will call you in the morning when I wake, which should be around 8:30 in the morning your time, if you are an hour ahead of New York on the time clock.
Praises and yogurt!
Your good friend,
Michael Bloomberg
New York
He continues to claim that he'll be going to Paris so we need to wrap things up.
From: abu hassan Date: 10/17/03 Subject: re: VERY URGENT
DEAR FRIEND,
I'M ALRADY LATE I WILL BE REACING YOU FROM PARIS WHEN I ARRIVE WHY YOU CHOOSE NOT TO GIVE ME YOUR PHONE NUMBER / THIS WOULD HAVE BEEN A GOOD IDEA TO COMMUNICATE WITH YOU WHEN I ARRIVE.
I HAVE SUBMITTED YOUR FILE WITH THE APPLICATION FOR THE APPROVAL OF YOUR FUND TO THE OFFICE OF ACCOUNTANT GENERAL CALL CHIEF KAYODE YALODE.
WHAT EVER THEY ASK YOU TO DO PLEASE FOLLOW IT UP TILL I COME BACK TO KNOW IF YOU HAVE RECEIVE THE FUND IN YOUR BANK ACCOUNT.
REGARDS,
ABU HASSAN
An "official" email arrives. My favorite part about this is that the "Federal Ministry of Finance" uses the equivalent of Yahoo email. That, and the fob can't write or use punctuation.
From: "FEDERALMINISTRYOFFINANCE PAYMENTOFFICE" Date: 10/17/03 Subject: application/acknowledgement
From the federal ministry of finance
head of international remmittance office
accountant general officer.
Tel:00234-1-*******
ATTN:: MICHAEL BLOOMBERG
sir,
appliction was made to this office by the Chairman of Contract Award Committee on foreign payment investigation panel of Nigeria headed by DR.ABU HASSAN. That you have outstanding fund OF US$35M under the contract number 045/nnpc-wr-kd/99 which is to be approve by this office to enable the appex bank credit your bank account.i urged you to wait so that his office will treat your file according to the rule of this government before we finaly advice you on how you will receive your us$35m into your bank account.
please forward your fax number to this email address so that i will fax you the release copy of your approval when the investigation must have been completed.
yours faithfully,
CHIEF. KAYADE LAYODE
Accountant General officer
federal ministry of finance.
N/B:please confirm if this understated bank account which
was submitted to this office is correct for transfer to your bank account.
Washington Mutual
2212-8172-69-122
Benef:Michael Bloomberg
New York
At this point, I feel like the jig could be up any time. I opt to stall as much as possible and have decided that I need not be subtle.
From: Michael Bloomberg Date: 10/19/03 Subject: re: re: VERY URGENT
Hi Apu!
I'm sorry I have been negligent in returning your message. I have to admit I was slow in part to the fact that my brother Blobar had a hard time believing that this was a proper and legal arrangement. I spent a good amount of time talking with him and trying to reassure him that everything was okay and that my friend Abu has it all under control (you do, yes?).
Anyway, now I have Blobar's blessing and he thinks it is a good idea to provide my bank account number to a total stranger from Nigeria.
I tried to call your friend on the phone number you gave me but the number was strange and when the person answered they sounded like they might be from Belgium or perhaps Florida. But they definitely did not sound like they were from Nigeria because they did not have a Spanish accent so I hung up the phone before they said "Hello." Did I make a mistake? I am good in business.
Anyway, the Washington Mutual account is ready but no one had called me on the phone number I gave you. I have noticed a pattern that you do not answer any of my questions. Are you too busy? Sometimes I feel like you just like me for my bank account and not for the friendship. But maybe I am being too insecure.
You would like me in Badminton. I can play very well! I had dinner a few weeks ago with supermodel Heidi Klum. She is very nice but can not use a disposable camera well. You can imagine the photos!
Couplings,
Michael Bloomberg
New York
And a quick follow-up, for good measure.
From: Michael Bloomberg Date: 10/19/03 Subject: re: re: VERY URGENT
Oh yes,I forget: Please enjoy Paris! The French are lovely people. There is a MacDonalds near Trafalgar square that has AMAZING French fries.
Bannister,
Michael Bloomberg
New York
We lost touch, I assumed Abu long gone, then suddenly:
From: abu hassan
Subject: re:re: VERY URGENT
Date: 30 October 2003
DEAR FRIEND,
IT WELL NOW THAT YOUR FUND IS READY AND IT WILL BE SHIP OUT IN CASH TO HOLLAND BY THE END OF TODAY.
THE COMPANY INCHARGE OF THE FUND IS CALL OCEAN DIPLOMATIC COURIER AGENCY, THEY WILL BE MOVING THE CASH INTO A TRUNK BOX TO HOLLAND WHICH I HAVE GIVEN THEM YOUR PHONE AND CONTACT E-MAIL ADDRESS TO REACH YOU ON PHONE AS SOON AS THE CONSIGNMENT ARRIVE BY MONDAY.
PLEASE CO-OPERATE WITH THEM AS THE HEAD OF THE COMPANY IS CALL DR. RAJI WILLIAMS . HE WAS ASSIGNED BY THE CENTRAL BANK TO HEAD THE PAYMENT COMITTEE TO HOLLAND.
I SHALL WAIT TO RECEIVE ANY INFORMATION FROM THEM WHICH THEY WILL PASS TO YOU. PLEASE START PREPARING FOR YOUR TRIP TO HOLLAND AND MAKE SURE THAT YOU PAY THE FUND INTO THE BANKK ACCOUNT. AS SOON AS YOU BUY YOUR TICKET LET ME KNOW SO THAT I WILL FLY DIRECT TO HOLLAND FOR MY OWN SHARE.
REGARDS,
ABU HASSAN.
He's back! I thought the jig was up. I was wrong. Now he's allegedly going to Holland. We never even talked about Holland. All I can figure is that somehow he's confused me for someone else who was falling for the con. Raji Williams will be contacting me? Great!
This arrives a few hours later:
From: abu hassan Subject: re:VERY URGENT Date: 30 October 2003
DEAR FRIEND,
THANKS FOR KEEPING YOU SO LONG WITHOUT GIVEN YOU THE DEVELOPMENT OF THE PAYMENT.
THE AUTHORITIES CONCERN FOR THE RELEASE OF THE FUND HAS TOLD THAT THE FUND WILL BE SHIP OUT IN CASH TO HOLLAND THROUGH DIPLOMATIC SOURCE BY THE END OF TODAY, THE HEAD OF DIPLOMATIC COURIER AGENCY HEADED BY DR. RAJI WILLIAMS WILL GET IN CONTACT WITH YOU SO THAT YOU WILL KNOW WHEN TO ARRIVE HOLLAND TO PICK UP THE CASH.
INSTRUCTION: THE CASH WILL BE LOADED INSIDE TWO TRUNK BOXES AND A CODE WILL BE GIVEN TO YOU SO THAT WHEN YOU ARRIVE YOU WILL BE ABLE TO IDENTIFIED YOUR OWN CONSIGNMENT.
AS SOON AS THEY REACH YOU BY THE OFFICIALS WHEN THEY ARRIVE HOLLAND AMSTERDAM BY MONDAY, DO NOT HESITATE TO REACH ME AS I WILL LIKE TO JOIN YOU THERE AND RECEIVE THE FUND SO THAT WE CAN GO BACK TO YOUR COUNTRY AFTER WE RECEIVE THE FUND IN CASH.
THE OFFICIAL WILL HELP US TO OPEN A BANK ACCOUNT WITH THERE CONNECTION IN HOLLAND BANK AND GET THE FUND TRANFER INTO YOUR BANK ACCOUNT.
PLEASE CONTACT ME NOW ON THIS NUMBER 00234-**********. REMEMBER THIS NUMBER ALWAYS MAKE SURE YOU DONT FORGET IT , IT'S ONLY NUMBER YOU CAN GET ME NOW.
THANKS
DR. ABU HASSAN
Okay, apparently I need to remember this number and always make sure I don't forget it. Redundant, but whatever. Trunk boxes full of cash? Sounds great! He follows up the following morning, and now I have to wonder if he's in fact screwing with me me too. It begins to get bizarre.
From: abu hassan Subject: DEAR BROTHER I'M BACK TO THE COUNTRY Date: 31 October 2003
DEAR FRIEND,
I FORGOT TO LET YOU KNOW THAT THE PERSON WHO WAS WRITTEN YOU SINCE ARE MY COLLEAGUE IN THE BUSINESS SINCE I WASN'T ARROUNT, NOW I'M IN THE COUNTRY TO PURSUE THE WHOLE TRANSFER AND SEE THAT EVERY THING WORK OUT FINE.
I ENJOYED MY TRIP TO PARIS AND THEY HAVE A NICE TOURIST CENTRES IN THERE EVERY WHERE IS SO CLEAN AND COOL. I SAW SOME HOTELS LIKE IBIS HOTEL , FUMULE 1 , ETAP HOTEL AND OTHER THING. I WILL LIKE US TO TRAVEL THERE AGAIN WHEN WE MEET IN HOLLAND FOR OUR FUND.
PLEASE LET HAVE A CODE WHEN I WRITE YOU , YOU SHOULD REMEMBER THAT MY ENGLISH AND MY COLLEAGUES OWN ARE NOT THE SAME.
OUR CODE FROM TODAY SHOULD BE [ MY BROTHER ] WHEN EVER YOU WRITE ME ADDRESS ME AS YOUR BROTHER.
MY DIRECT NUMBER IS 00234-**********. I WILL CALL YOU ONE OF THESE DAYS AFTER I MAKE SURE THAT THE CONSIGNMENT ARRIVE HOLLAND IN GOOD FAITH.
HOW IS WHEATHER OVER THERE ?
REGARDS,
YOURS BROTHER
DR. ABU HASSAN
This is awesome. He's been to Paris – apparently that means he went to Expedia.com and threw the names of hotels at me. And now we have to use code name: Brother. His English and his collegues aren't the same, whatever the hell that means. He also wants to know the weather. I need to get back to him, but before I can, another dispatch arrives:
From: CENTRAL BANK OF NIGERIA THE GOVERNOR
Subject: VERY URGENT
Date: 31 October 2003
Attn:Michael Bloomberg,
This is to inform you that we have finaly move your fund to our offshore office in Amsterdam. you are hereby request to appear with the deposit certificate and airway bill of the shipment to Holland for pick up.
incase of any question, dont fail to contact this office for futher details.
your phone number is needed as the official will want to contact you by phone.
yours faithful,
CHIEF. KAYODE YALODE
ACCOUNTANT GENERAL
Good, he's my faithful. Not only does "Central Bank of Nigeria The Governor" use Hong Kong's equivalent of Yahoo! email, the email address is "josephsanusi@…" which seems odd since he's claiming to be Kayode Layode, the "Accountant General." Kudos to Kayode/Joseph for not using all CAPS like my pal Abu. I don't understand why every subject header has to be "VERY URGENT" with these guys though.
A response is drafted and sent:
From: Michael Bloomberg
Subject: re: DEAR BROTHER I'M BACK TO THE COUNTRY
Date: 31 October 2003
Hello Brother(s)!
I must say I am very confused because I have received many emails from you and I do not totally understand what to do. Do I consider Mister Layode a brother too or only you Abu? This is one thing that confuses me, even though I am normally very good in business.
I understand we will meet in Holland to exchange the funds and finalize everything but I do not understand which Holland you are talking about. I will assume it is the Holland that is in Europe, yes? We have several states here in the United States that have Holland as the name. But I don't think you mean Holland, Idaho because that is very far out of your way to have to go. They have great potatoes in Idaho. Idaho? Youdaho! (This is a joke we say).
I am able to get a very low cost ticket to London on Virgin (the airlines) and I can then hitchhike to Holland in France with your trunk boxes. I hope they are not very heavy because I have a limit to the amount of baggage I can bring back to the US when I return. Do you need the trunks back? Where did you get them. There was a sale at the Container Store and I can bring some more trunks if you would like them.
The weather here is a lovely 46 degrees (not Celcius!). I am wearing chaps and a wool hat today. Thank you for asking. How is the weather in your place? Cold?
Okay. I will try and call you now. I will say "Brother?" and you can answer how you want because you told me this was the code system you would like to use. But I will say "brother" several times until I am confident that it is you I am talking to, so don't think I am crazy when I call!
What hotel will we stay at in Holland? Are there movies in the room?
I am very excited! It makes me want to ban smoking in all the bars in the city and cause a 30% cut in the restaurant business! We should open a restaurant with all the money, no? Can you cook?
Your brother,
Brother (Michael Bloomberg)
Okay, I think Abu is catching on. He claims I'm "playing" him. The irony there, of course, is that he's the frickin' con man, not me. My failure to provide a contact phone number has aggravated him. I'm debating acquiring a disposable phone number in order to prolong the relationship. Or I could give him the number of a Blockbuster video and have the jig be up immediately:
From: abu hassan
Subject: VERY URGENT
Date: 1 November 2003
DEAR BROTHER,
PLEASE DONT MAKE ME FEEL YOU ARE PLAYING ME AS YOU HAVE NEVER WANT TO GIVE ME YOUR PHONE NUMBER SO THAT WE CAN TALK, WHAT ABOUT IF THE OFFICIALS ARRIVE HOLLAND IN EUROPE BY MONDAY HOW WOULD THEY GET INTOUCH WITH YOU.
AGAIN IF YOU FAIL TO GIVE ME YOUR NUMBER TO SUBMIT TO THEM I WILL TAKE IT AS IF YOU DONT WANT TO HELP ME RECEIVE THIS FUND . REMEMBER THAT YOUR NAME IS THE NAME IN THE CONTAINER THERE NOW SO YOU DONT HAVE TO WASTE TIME.
FOR CHIEF KAYODE, YOU DONT HAVE TO CALL HIM BROTHER SINCE IS NOT YOUR ASSOCIATE IN BUSINESS, HE'S ONLY ACCOUNTANT GENERAL OG THIS COUNTRY.
I REPEAT MY NUMBER IS 00234-**********. IF YOU LIKE CALL ME IF YOU DONT LIKE FORGET IT.
BYE.
ABU HASSAN
This was sadly our last correspondence. Although this guy is obviously busy conning a few folks at the same time, and he's prone to confusing the cons, so one day I'll pop back into his life again.