Super Mario Meets Macrophage?
I've been finding a lot of interesting stuff in the lunch room magazine stack recently. Today someone left out a copy of the April 16 issue of Cell, which had a really cool feature article on the use of video games in science education ("Video Games and the Second Life of Science Class").
America's education system has been faltering for a few years now-especially in the areas of math and science. Now, the American government is reaching out to game developers, encouraging them to develop educational video games to help boost interest in science and technology in America's youth.
All I can say is: FINALLY! There have been so many topics covered in my biology or microbiology classes that would make awesome video games. Better than Grand Theft Auto and the like on so many levels.
For instance, check out the computer game mentioned in the article–Immune Attack.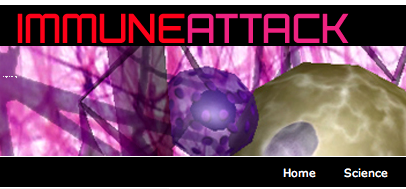 The goal? To quote:
You must navigate a nanobot through a 3D environment of blood vessels and connective tissue in an attempt to save an ailing patient by retraining her non-functional immune cells.  Along the way, you will learn about the biological processes that enable macrophages and neutrophils – white blood cells – to detect and fight infections.
OMGSOAWESOME.
Also, apparently yesterday (May 12th) was officially declared National Lab Day. Makes me want to go centrifuge something  to celebrate…