STEPHEN LEWIS- A RACE AGAINST TIME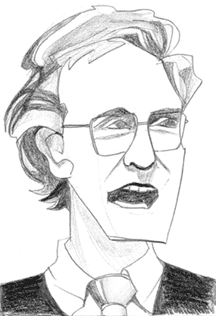 I have had the great privilege in my life to have seen Stephen Lewis speak on three separate occasions and given the opportunity to see him speak a million more times, I would gladly accept. He is brilliant, arguably the most eloquent speaker most have ever heard. His voice, his words can move you to tears as quickly as they can move you to laughter. And when talking about AIDS in Africa it's not so easy to laugh. He speaks with his heart and you can feel his pain, feel all the horribly unimaginable things he has seen a hundred times over. This one man and all the children and women of Africa whom he fights for has been a huge influence in what I want to do with the rest of my life. His passion is intoxicatingly addictive.
Let me backtrack; give you a better sense of who Stephen Lewis is. First, he's a Canadian ever deservedly named MacLean's magazine's "Canadian of the Year" in 2003. Time magazine listed him as one of the world's most influential people in 2005. Again, another perfectly suited designation. I do admit, I am biased. After all, this man has been a major guiding factor in my life. His current job titles include the UN Secretary-General's special envoy for HIV/AIDS in Africa, commissioner on the World Health Organization's Commission on Social Determinants of Health, and director of the Stephen Lewis Foundation (www.stephenlewisfoundation.org). Word has it that he is an insomniac and looking at his numerous commitments, a lack of sleep works to his advantage. Mr. Lewis (I would love to be able to refer him as Stephen, but having met him only once I hardly feel that we are on first name basis) has recently completed his Canadian tour giving five separate talks for the CBC Massey Lectures Series. The title of the Series: A Race Against Time. The first line of his first lecture: "I have spent the last four years watching people die". Kind of grabs you at hello doesn't it?
Stephen Lewis has a lot to say. He says it himself, he's "addicted to the spoken word". Speaking is his vocation. In these lectures, he particularly focused on the Millennium Development Goals (MDG) and there impossibly unreachable target date of 2015. These eight goals put forth by the UN Assembly in 2000 include: cut the worst of poverty and hunger in half; achieve universal primary education, promote gender equality, reduce by two-thirds the under-five child mortality rate, reduce by three-quarters the maternal mortality rate, halt and reverse the spread of HIV/AIDS and malaria, ensure environmental sustainability and finally, develop a global partnership of development. Mr. Lewis has a lot of doubt that the international community will even come close to reaching this target and his experiences with the UN, the World Bank and the International Monetary fund seem to justify his hunch. It isn't right, it isn't fair. We need to become aware of what's happening outside our comfort zones, we need to get angry and we need to act. Pick up a copy of his book, Race against Time, if you want to learn more. I highly recommend it and the next time Mr. Lewis blesses us with his presence on campus, do come and listen. Education really is the first step in making positive changes. Mr. Lewis has told me this first hand and I think my mother would agree. Let yourself be inspired.
(Image by Jane Wang)