CLIMATE CHANGE F.A.Q. (TATLAY REMIX)
1. CLIMATE CHANGE? HUH?
Climate Change is the measured long-term shift or change in the climate of a certain location, region, and on a larger scale…the whole planet. These changes are seen in weather, temperature, rainfall, humidity and various other ecological features of our biosphere and are caused by both natural and human factors. In addition, the study of climate change engages atmospheric science and meteorology, but the subject is so complex that it involves many other areas of the earth sciences, as well as different disciplines, such as physics, chemistry, and even biology. This complexity makes climate science both fascinating and controversial. It also undergoes rapid change as new facts and analyses emerge.
2. SO WHAT CAUSES CLIMATE CHANGE?
Climate change occurs whenever something alters the total amount of the sun's energy absorbed by the earth's atmosphere and surface, or changes the amount of heat energy from the earth's surface and atmosphere that escapes to space over a period of time. Significant alterations in climate can be caused both by natural events and processes and by human influences. Climate change does occur naturally – the ice age is an example. The earth's natural climate has always been, and still is, constantly changing. Natural processes like volcanic eruptions, changes in the sun's intensity, or very slow changes in ocean circulation or land surfaces that occur on time scales of decades, centuries or longer are factors in influencing climate change. Key natural factors include changes in the intensity of sunlight reaching the earth and in the concentration of volcanic dust. Both of these factors alter the amount of sunlight that is absorbed by the earth. Humans can also cause climates to change by releasing greenhouse gases and aerosols into the atmosphere, by changing land surfaces, and by depleting the stratospheric ozone layer. Greenhouse gases are especially critical in this discussion of human factors leading to climate change, because an increase in greenhouse gases enhances the natural greenhouse effect which in turn can lead to an increase in the earth's average surface temperature.
3. POTENTIAL IMPACTS OF CLIMATE CHANGE
All of the projections, postulations, and research into climate change indicate that the upcoming changes will be quite significant. Climate models indicate that warming will be greater in Arctic regions than in equatorial regions, and that continents will warm more than oceans. However, and perhaps due to the vastness of the subject, it is difficult for scientists to predict the exact consequences of continued increases in greenhouse gas or its impact on various regions. Even if developed nations deal well with the impact of climate change, there are other regions – particularly in the developing world that may not be as adaptable to these changes – thereby still impacting developed nations in terms of security issues and foreign aid. Throughout the world, climate change may threaten the world's natural resources including forests (an increased fire risk because of the drying climate); water (needs may outstrip supply); cause severe water loss due to changes in evaporation and precipitation patterns; cause flood damage to low-lying countries and island states, including loss of coastal land to rising sea levels; intensify the movement of tropical diseases such as malaria to regions where populations have little or no immunity; and affect international trade patterns. Higher air temperatures and removal of the insulating vegetative cover could lead to a melting of permafrost in the Arctic regions and glaciers could also retreat more quickly.
4. CAN THIS BE STOPPED!?
Most scientists indicate that the current warming trend cannot be stopped or reversed and climate change may already be unavoidable. One explanation for this grim prediction is that there is a lot of inertia in the climate system (mainly because of the slow response of oceans), and hence the temperatures have only partially responded to the increased concentrations of greenhouse gases already in the atmosphere. Even if all emissions stopped today, further residual warming would take place for a number of decades before the climate reaches a new equilibrium conditions. However, immediate actions can slow down and eventually stop this increase.
5. WHAT DO THE SCIENTISTS KNOW?
In addition to the consistency of evidence for warming obtained from both the instrumental air temperature records and other temperature data, there are many other indicators of a warming world. These include warming of the upper layers of the world's oceans, melting mountain glaciers, retreating sea ice and snow cover, rising sea levels, and shifts in distribution of many species of plants and animals. In addition, the instrumental records of surface atmospheric temperatures collected over the past 120 years agrees well with other indicators of climate, such as data from tree ring, ice cores, corals and ground temperatures. All show substantial warming over the past century.
6. BUT WHAT ABOUT THE GREENHOUSE EFFECT?
Greenhouse gases – primarily water vapour, carbon dioxide, methane, and nitrous oxide – trap the heat of the sun, preventing radiation from dissipating into space. Without the effect of these naturally occurring gases, the average temperature on the Earth would be -18° C, instead of the current average of 15°. Life as we know it would be impossible.
The greenhouse effect describes the role of the atmosphere in insulating the planet from heat loss. The small concentrations of greenhouse gases within the atmosphere that cause this effect allow most of the sunlight to pass through the atmosphere to heat the planet. However, these gases absorb much of the outgoing heat energy radiated by the earth itself, and return much of this energy back towards the surface. This keeps the surface much warmer than if they were absent. This is called the greenhouse effect because it resembles the role of glass in a greenhouse. Over the past 10,000 years, the amount of these greenhouse gases in our atmosphere has been relatively stable. But a few centuries ago, concentrations began to increase due to the demand for (i) energy caused by industrialization and rising populations, and (ii) to changing land use and human settlement patterns.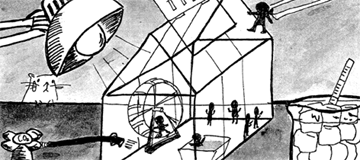 7. WHICH HUMAN ACTIVITIES CONTRIBUTE THE MOST TO GREENHOUSE GASES IN THE ATMOSPHERE?
Carbon dioxide is the main culprit here as far as human activities are concerned. Fossil fuel use and consumption currently accounts for between 70 and 90% of all human emissions of carbon dioxide. Fossil fuels are used for transportation, manufacturing, heating, cooling, electricity generation, as well as many other applications. The remainder of the carbon dioxide emissions comes from human land use activities – ranching, agriculture and the clearing and degradation of forests. For other greenhouse gases, primary sources include the production and transport of fossil fuels, agricultural activities, waste management and industrial processes. Methane (the second most significant greenhouse gas, next to carbon dioxide) emissions occur both naturally and as a result of human activities. Rice cultivation, cattle and sheep ranching, and decaying material in landfills all release methane, as do coal mining, oil drilling operations, and leaky gas pipes. Nitrous oxide comes from both natural sources and human activities. Fossil fuel combustion, industrial practices, and agricultural practices including the use of chemical fertilizers all increase atmospheric nitrous oxide. The industrial production of chlorofluorocarbons (CFCs) and other halocarbons – used in refrigeration, air conditioning, and as solvents – have added other greenhouse gas, but many of these sources are gradually being eliminated under existing international agreements because they deplete the stratospheric ozone layer. Ozone in the troposphere (the lower part of the atmosphere) is another important greenhouse gas resulting from industrial activities. It is created naturally, but is also produced by atmospheric reactions caused by smog precursors such as nitrogen oxide from motor vehicles and power plants.
8. WHAT ABOUT WHEN WE BREATHE?
The carbon dioxide that humans exhale is part of an active natural carbon cycle involving intake of carbon from food we eat and the release of carbon through breathing and human wastes. Unlike ruminant animals, which have different digestive systems, gases erupting from humans through flatulence or belching contain very little methane and do not contribute significantly to increased methane concentrations.
9. WHAT OTHER HUMAN ACTIVITIES AFFECT THE CLIMATE?
Although a lesser evil than greenhouse gases, ozone depletion in the stratosphere can also lend to climate change. Ozone depletion allows more ultraviolet radiation to reach the lower atmosphere but also reduces the greenhouse effect of the ozone involved. Deforestation, desertification, soil erosion, farming practices, and urbanization are some of the processes that affect the surface albedo of our planet ('Surface Albedo' refers to the amount of sunlight reflected by the earth's surface back to space).
10. AND WHAT OF CLIMATE MODELS?
Complex climate models are developed using physics, computer science and mathematics. These models are tested against witnessed climates and climates of the past to ensure they can simulate real climates. Data is then used to project future climates for scenarios of future greenhouse gas emissions. While these tests show significant disagreements with observed and past climate data at regional scales, models of today replicate the global pattern and trends very well. Researchers are confident that they provide useful indications of how the climate will respond to human interference with the climate system.
11. WITH SO MUCH UNCERTAINTY ABOUT WHAT WE KNOW ABOUT CLIMATE CHANGE, MODELING, AND OTHER RESEARCH TECHNIQUES, IS IT NOT BETTER TO WAIT BEFORE ENACTING ANY MEASURES OR STEPS TO PREVENT CLIMATE CHANGE?
Much of the uncertainty is related to the consequences of climate change. Scientists are in general confident that the basis for concern about climate change is scientifically sound and that the risks of danger are real and significant. Such risks make it important that precautionary steps are taken now. With regards to climate change, early action is more beneficial and likely less costly and disruptive than delayed action. The scientific community has recommended precautionary actions that will at least reduce the risks by slowing down the potential rate of climate change.
11. ARE THERE ANY ALTERNATIVE VIEWS TO CLIMATE CHANGE THEORY?
Although evidence does heavily indicate on-going climate change, it is important to look at all sides of the climate change issue in order to make an informed decision. Scientists presenting alternate views on climate change argue that the human influence on climate is not yet apparent, and that the results of climate modeling are exaggerated. However, most generally agree with the fundamental science underlying the concern about climate change.
12. ARE THERE ANY BENEFITS FOR HUMANS IN RELATION TO CLIMATE CHANGE?
For cold countries (such as Canada), climate change can provide some significant benefits, like reduced heating costs and longer, warmer growing seasons. This would potentially offset some or all of the harmful effects caused by climate change (if the rate and magnitude of climate change is minimal modest). However, even if these countries escaped somewhat unscathed, major negative impacts are projected for many of the developing countries of the world, even for modest changes in climate. These off shore impacts can also have indirect yet significant negative consequences for countries like Canada. Climate change may also present other benefits (environmental technology and services, increase exports, and create jobs). However, other consequences of climate change are expected to be very harmful. These include: the combined effects of sea level rise and ocean storm surges, enhanced drought conditions that threaten large populations with starvation in some regions of the world, increased intensity of summer rainfall and related heavy flooding and erosion, and increased frequency of high temperature extremes are related stresses on ecosystems and human populations.
13. ANY DEBATES OVER TEMPERATURE AND CLIMATE CHANGE MODELING?
The subject of climate change leans heavily on observations of temperature. Researchers are inundated with data, much of which does not add appreciably to the discussion; on the other hand, they lack crucial information about the past that may never be recovered. The large discrepancy between model results and observations of temperature trends (whether from satellites or from the surface) also demands an explanation. The models developed around the world by expert groups differ among themselves by large factors. Computer models forecast rapidly rising global temperatures, but data from weather satellites and balloon instruments show no warming whatsoever.
14. SO WHAT CONCLUSONS CAN WE DRAW FROM THE OTHER SIDE OF THE DEBATE? WHAT'RE THEY SAYING?
Government officials have declared repeatedly that climate science is sound and compelling. The clear implication is that we know enough to act; any further research findings would be perhaps redundant and not important to the international deliberations of the parties to the climate treaty. The 'other side' holds that the observational evidence touted by proponents of climate change suggest that any warming from the growth of greenhouse gases is likely to be minor, difficult to detect above the natural fluctuations of the climate, and therefore inconsequential. It is also a popular belief among skeptics that the impacts of warming and of higher CO2 levels are likely to be beneficial for human beings.
(artwork by Stephanie Cheung)